Ryan Schmidt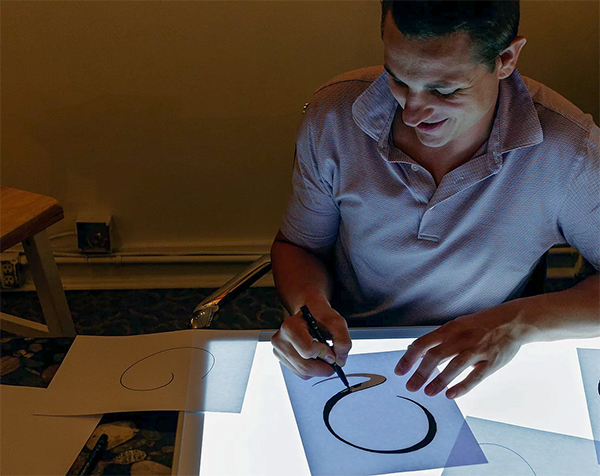 Ryan T. Schmidt is an American Artist born and raised in Little Rock, Arkansas sculpting in stainless steel since 2002. The inspiration for his welded and moulded art springs from his passion for steel in smooth arcs and curves that are in triangular relationships inspired by St. Louis Arch, as well as, early artistic direction from Origami and Constructs at the early age of five. Throughout his childhood years he spent the weekends and summers learning to work with wood, metal and plastic in his father's business of custom remodeling, landscaping, and handcrafted playgrounds. Later during his school years transitioning into college, he furthered his studies in photography, painting, drawing, color and design, printmaking, ceramics, and finally transitioned into sculpture.

After studying art at the University of Arkansas in Little Rock, Schmidt began working in cast aluminum, later in bronze, and ultimately found the everlasting properties of stainless steel with its brilliant reflection to be most satisfying. In 2002, he established Rykan Expedition, Inc. combining water fountains and outdoor sculpture into the landscaped environment. Later, he moved to Los Angeles and spent 5 years to focus more on producing sculptures while establishing his gallery relationships. Then, returned to his Arkansas hometown in 2015 to expand the production of sculptures. Schmidt was a Visiting Artist at Palmer Trinity School in Miami, and has supported UNICEF, American Heart Association, Saint Louis Ambassadors, Wolfe Street Foundation, Dan Eldon Creative Center in Malibu, Tabriz Arkansas Arts Center, and Splatters Centers For Youth and Families.

In 2018, Schmidt received the Proskauer Prize Award at the 85th Annual Awards in Brookgreen Gardens South Carolina. He won "First Place" at the Hot Springs 4th Annual Sculpture Showcase, Arkansas in 2009; and at the 11th Annual Indian Wells Arts Festival, California in 2013. Many of his sculptures are regarded more as monuments, and grace public waterfronts. His works stand within public places, corporate headquarters and private estates. They provide those who see them with an enhanced sense of how constructed beauty can interplay with the natural world, our sense of aliveness, and be a poetic, fluid conversation with what we see as static or constant. Notable works can be found at the Arkansas Governor's Mansion and Neuroscience Institute, Habitat for Humanity Grand Rapids, BankUnited in Downtown Miami, Charles Winburn Park in Northglenn/Denver, TICCA in World Trade Center Taipei and Amway Botanical R & D Center in Wuxi/Shanghai, China. He is currently affiliated with the International Sculpture Center, National Sculpture Society, and Texas Artists Coalition.

Schmidt's goal is to fully realize concepts from the images in his mind, in a way that the sculpture is able to create a mood, and then it changes in a moment with the season and in a completely seamless and natural manner. His mission is to share the gift of inspiration through reflection with the passion for stainless steel and desires to build sculpture that will last for many generations to come.