Color was everywhere in Neenah Wisconsin where Justine was born ... acres of golden, glowing corn, groves of oak trees and apple orchards vied with sunsets in the glory of the natural world that surrounded her. As a 5-year old child, she knew she would be an artist. During family vacations to the west, the experience of mountains and open vistas had a profound effect on Justine, one that she never forgot.
After earning her BFA at the School of Art Institute of Chicago and MFA at Northern Illinois University, Justine taught Printmaking, Drawing, and Color Theory at Loyola University of Chicago for 22 years.
The call of the west was ever with her. Over the years Justine undertook historical and archaeological research studies and many excursions to Egypt and especially to Mexico. In 1989, Justine's husband suggested that they visit Arizona. It was a fateful journey; Justine again saw the vast mountain vistas and vivid sunsets that so inspired her in youth. Several years later she made her home in Fountain Hills, Arizona and became the Drawing and Painting Artist in Residence for the City of Phoenix. While there, she created workshops in collage and mixed media watercolor and began extensive work with Ampersand clayboards. Justine continued to exhibit her artwork nationally and internationally as she has throughout her career.
As a consummate colorist with expertise in printmaking, clayboard provides Justine with a surface that has unusual possibilities. Using ink for painting, she brushes in layers of iridescent inks and transparent colored inks to create shimmering landscapes and a wide variety of desert plant paintings. The depth, complexity and reflective quality of the inks cause a painting to change with the light that shines upon it. The clayboard carries the inks in a way that allows them to pool and mix; etching down to the white underlayer of the board adds to the depth and texture of the paintings.
This unique combination of materials and technique yields rare paintings filled with depth and dynamism ... paintings that are charged with ever-changing light and color, and living texture that invites one to step into that vibrantly alive land, and walk its magical pathways.

"Monument Valley, Earth & Sky"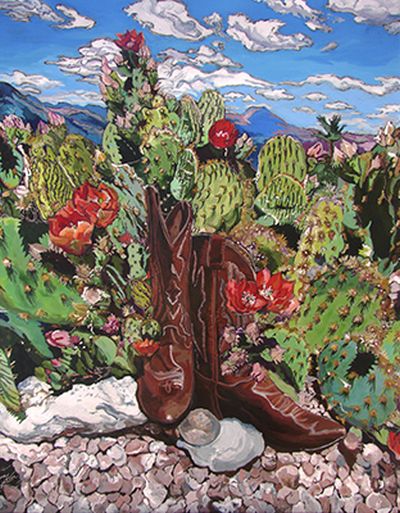 " Boots and Blooms"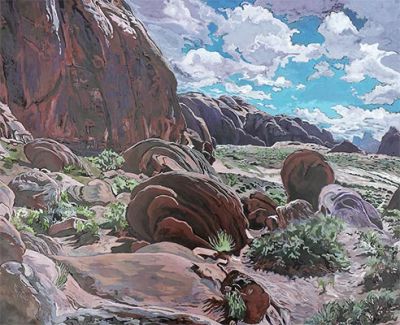 "Monument Valley Vista"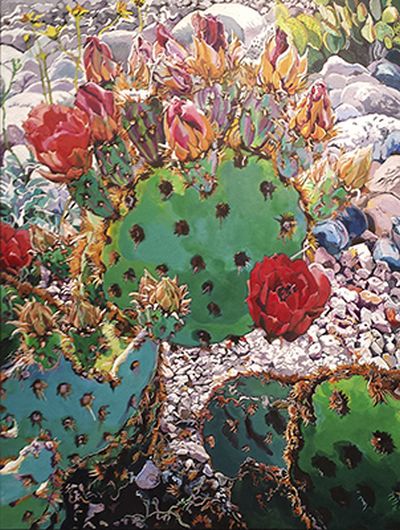 "Desert Garden"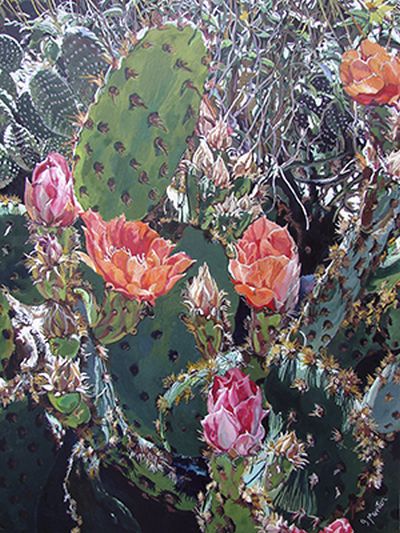 "Summer Song"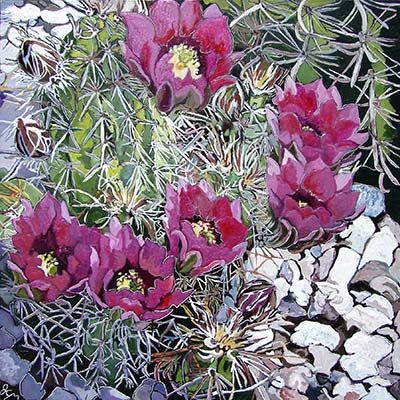 "Fancy Ladies"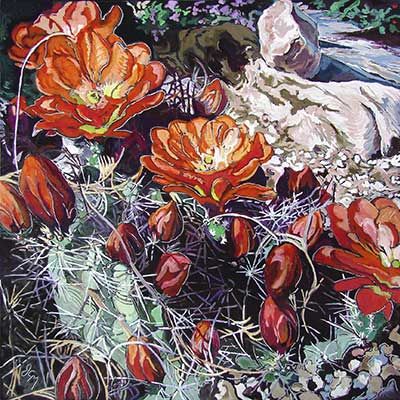 "Sun's Delight"