Feb 4thth 2019 Meeting - Jackie Roliardi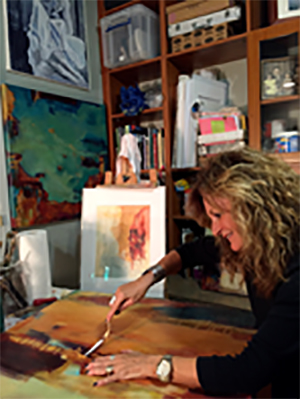 Jackie is looking forward to hosting the February 2019 Art League meeting in her studio at 16751 East Parkview Ave., Studio #6 in Fountain Hills. Her studio is around the BACK of the commercial building where the bowling alley use to be and where the large open parking lot is.
Jackie's current work is abstract. She identifies with the artistic motivations of the Abstract Impressionist movement, viewing art as an expression of what wants and needs to come forth. She begins each piece working freely and spontaneously through expressive drawing and mark making, allowing the content to literally find itself in the work. Through the use of a variety of tools and techniques, she then further develops composition, shape, line and color in layers, working primarily with paint, ink and glazing mediums. Jackie holds a Masters Degree in Education and was an educator working in education publishing and Apple Computer Inc. before becoming a full time professional artist 15 years ago. She has been an artist for most of her life, and studied drawing and painting in Chicago, as well as at the Scottsdale Artist School and Brio Fine Arts.